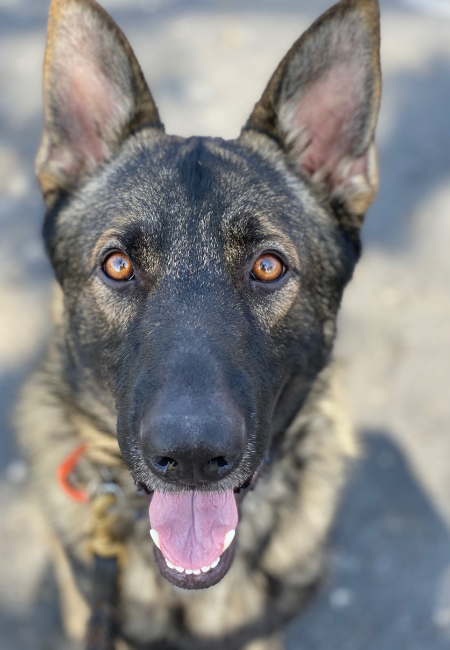 Jacob
Sex: Male
Breed: German Shepherd
Age: 1 year old
Size: 70-75 lbs
Health: Good, neutered
Ideal Match: An owner with shepherd experience who will provide guidance, enjoy lots of love, and play ball

Personality:
Jacob is a good looking boy who will be an awesome dog in an active home with proper training. He loves to play ball, is affectionate, and looks to his handler for guidance. 
Jacob, like most shepherds, is very sensitive and reads his handlers very well.  In addition to being sensitive, he is also somewhat insecure. This lack of confidence becomes most evident when he is handled by someone that is not experienced and is hesitant. He sees the hesitance, reads it as a signal that something is wrong and he, in turn, becomes uncomfortable. For this reason, he requires an adopter with shepherd experience who can provide the calm, confident leadership he needs as he continues to mature.  
Since his arrival, he has learned how to give attention to his handler, how to respond to leash pressure, and how to walk on a leash. He is not always comfortable with his head and neck being handled and can get mouthy at times. We have been working on increasing his comfort level with being handled, especially around the head and neck. He is gentle when accepting food directly from your hand and is food motivated which helps during training times. 
This stunning guy has enormous potential and is guaranteed to make the right adopter very, very happy. He just needs someone who understands what is involved in providing solid, consistent leadership and in turn, that person will have a companion for life!