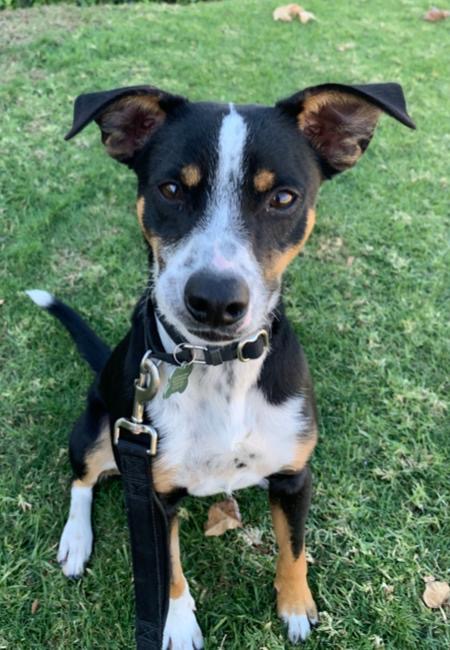 Rome
Sex: Male
Breed: Border collie / Whippet mix
Age: 6 months
Size: Small/medium breed (20-25lbs)
Health: Healthy, to be neutered prior to adoption
Ideal Match: A patient family willing to train a puppy

Personality:
Rome is body confident but needs time to build trust with new people. He is good on the leash and is a quick learner. He is food motivated and LOVES LOVES LOVES physical touch from those he trusts—maybe even more than food! He appears to like water, based on his tendency to sit in his water bowl as he drinks from it. 🙂 He would benefit from crate training and structured potty training.
Rome is one of four puppies that came to us from a shelter in Bakersfield. The puppies initially were timid and wary of new people. They have since gained more trust around people with patience and a consistent routine, but can still take some time to warm up and feel safe with strangers. The puppies were initially wary of leashes but are getting better. They have no leash manners yet, but are small enough that with a proper leash they are still easy to walk.

All four dogs are very sweet and fun puppies. Like all puppies, Rome will need training, boundaries, routine and consistency to thrive. We recommend a patient, low traffic home. Because Rome has a high energy level and because she is still working through some fear, we recommend a home with kids 12+ years old.